There is fire on server provider - https://www.searchenginejournal.com/ovh-data-center-fire-darkens-thousands-of-sites-worldwide/398485/



I don't know whether webminal.org server gone forever!



Backup devices also part of OVH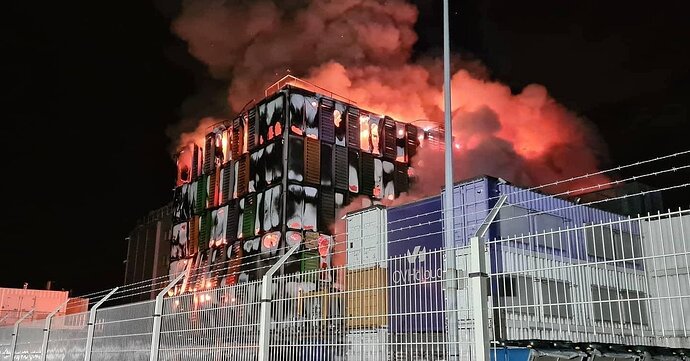 Email from OVH

Dear Customer ,

 

I cant reach you via mobile, we have an incident in SGB (Strasborough) DC in france and all servers are affected and we don't have any ETA for the re-boot.

 

I believe you do have Few *Rise servers in SBG and all of those will be affected by this incident.

 

If your Business is affected by this incident, I highly recommend you to order New set of servers in Other DCs ASAP. **(Except SBG, all other DCs in France is Running)**

 

Further communication about the incident and SLA claims will be sent shortly, but I urge you to take appropriate steps if it's affecting your Business continuity.

 

You can follow the incident here - [ http://travaux.ovh.net/?do=details&id=49471](http://travaux.ovh.net/?do=details&id=49471)

If I'm not wrong webminal.org server hosted on SBG2 and it seems like SBG2 completely burned!
Note webminal.com is not hosted under OVH, so they are working.
When webminal.org will be up again?
Honestly, I need to be 100% sure that server from SBG2 completely lost. All the 230000+ user data and their files and project code and db. Right now, I'm 99.9% sure its gone. Hoping for a miracle.
webminal.org started in 2010 and went live March-2011. So Its 10+ years of effort from me. I worked on countless hours and coped with financial cost to keep the server running for free all these years.
Fire incident like this I never imagined and never prepared backup on different location. That hurts so much now.
I tried to add paid feature based on specific request for root/network access, but they are very very tiny portion -which wont even cover server cost running for free. If you paid for webminal.com services, you can still access them directly. In case, If you need refund for your purchase, please write to me.
I think I'm going to sob for some more time and then think about webminal.org future.
Here is snapshot from Jan-2021 https://web.archive.org/web/20200923005521/https://webminal.org/
Update: I'm still waiting for any good news from OVH on SBG2.

Worst case scenario: If nothing salvaged from older server, I plan to start from scratch again. So webminal.org should be up sometime next month or early May.
Update: I started exploring on alternate approach to providing safe online terminal as part of webminal.org Will update you soon. thanks!
Think about distributed web like IPFS (ipfs.io) data could be saved
great thanks, I'll check it out.
work still in progress Will update with more details in next few days!
Very sad what happened. Would it be possible for us users to contribute (financially or otherwise) to developing the new website? This website helped me learn basic linux navigation and I'd love if I could give something back as gratitude.
Thank you @Oborot for your support. Very glad to hear that webminal.org helped in your Linux journey

Reg user contribution: Its a good idea. I'm exploring few options right now include setting up https://www.patreon.com/ account to revive webminal.org Let me update this post in few days time. Thanks again!
Update: I received from OVH about possible backup from 2020 is restored/recovered. So I created instance from those restored backup. DB instance is up with data upto Jan-2020. webminal.org server data is possibly missing and I can't login to it to verify it. Raised support tickets and awaiting for more details.

Even if these backup from 2020 works, at-least I won't start from scratch again. Thats a good news. Lets see!
Raised support tickets and awaiting for more details.
OVH support team escalated my support ticket and I'm awaiting further updates from them.
Hi Laks…have you explored into exporting or backing up data to GITHUB.
Just wondering how much data did you loose ? please specify GB size ? thx.
im a newbie to your site…
best regards.
Hello @ad7_98,
webminal.org is a tricky project. Front-end is pretty straight forward but securing the terminal and DB access (for MySQL learning etc) makes it more difficult to manage. Yes, I have backup of webminal source code, but code only is rather irrelevant, because back-end/server configuration is critical to this. Server rootfs was around 10GB and 100GB each. We had backup of those drives with same data center not on different location. Its not easy to host 250000+ account on single server! We were stretching the limits of Server and resolved issues as we proceeded. (For ex: SELinux is too slow on large no.of users along with useradd command etc).
OT: I tested corona positive yesterday, will be monitoring and focusing on my family and my health for next 14 days. Hopefully by the time i recover, I will get update from ovh support team regarding issue with instance login. (after creating a new instance from 2020 backup)
Ahhhh…shit - hope you get better very soon…
Sorry to hear that mate - just try and stay away from your family.
Have people buy some great food for you and subscribe to Netflix and all the movie subscriptions.
Good luck on your mini hybernation.
Get better quick. Stay Positive !.
Let us know how you go.
Chao.
Anthony.